Construction of self-propelled platform and agricultural machines since 1937
History of the successful union between tradition and innovation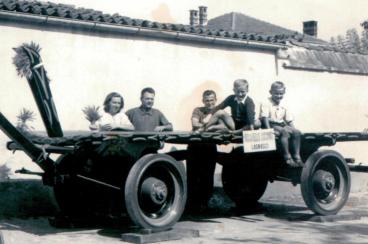 It all started in 1937 when Luciano Rosatello decides to start a business and to establish its company in Lagnasco.
Since the beginning, he showed its great ability in making products that are reliable, robust and easy to use.
However, due to World War II, he was called to arms as a military fireman, and he spent the next years fighting the fires caused by the bombs.
When the war eventually ends and the economy picks up, orchards intensification and field works require higher productivity and efficiency.
It's the boom of agricultural mechanization.
In 1948, at the "Peach Fair" in Lagnasco, Luciano Rosatello presents a pioneering prototype of a cart with rubber wheels: it's an instant success.
In the mid-'50s, Luciano's sons enter in the company: Guido – an expert in production – and Riccardo, freshly graduated at Technical Institute in Turin as a mechanics and engine specialist.
Thanks to their contribution, the company builds and patents the first DECAFRUIT, a revolutionary tool for the orchards inter-row cleaning – a job that till that moment was done manually.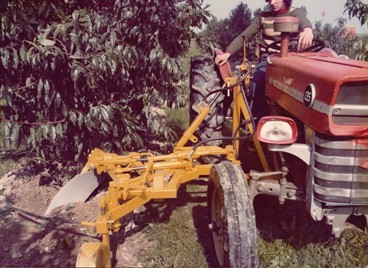 The history repeats itself with the recruitment of Claudio and Fabrizio, respectively Riccardo's and Guido's sons.
In fact, in 1985, the company patents what is currently the flagship product: the self-propelled platform Columbia.
It's a machine characterized by an elevating and extendable platform, essential for all orchards' operations, from fruit harvesting to the installation of hail against the hail.
The innovative system of a sliding extension has revolutionized the way of building this kind of machine.
The fruit picking platforms are successful not only in Italy but also in France, Poland, Greece, Morocco, and South Africa.
The self-propelled platform - entirely assembled in our facilities - it's the focus of our production, together with our indestructible shredders.
Also, we offer a wide range of products for orchards' maintenance and protection, among which it's possible to find sprayers, anti-frost wind machines, and cannons against hail formation.
The company - still today family managed – welcomes the fourth generation, continuing to build its success on a decades-long experience and tradition.
The enterprise is constantly involved in a process of innovation and development, always respecting the three key principles of our philosophy:

Ease of use
practical and efficient machines

Full reliability
safe and robust machines

Exceptional assistance
the customer is never alone
Rosatello srl is Arproma associate

---
back to home page